Every year, thousands of brave souls venture to the Chesapeake Bay to do something extremely courageous, wild — and generous. They run into the 30° water at Sandy Point State Park to show their support for the athletes of Special Olympics Maryland.
Now in its twenty-third year as Maryland's "coolest" tradition, according to their website, the Maryland State Police Polar Bear Plunge has raised millions of dollars for Special Olympics Maryland. Each participant pledges $75 or more; this year's goal is to reach $2.5 million. All proceeds go toward helping the 7,782 athletes of Special Olympics Maryland, which provides sports training and athletic competition opportunities to children and adults with intellectual disabilities.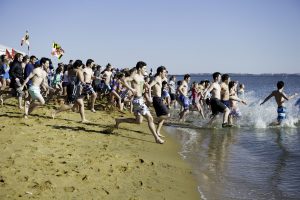 This year's MSP Polar Bear Plunge is being held the weekend of January 24 to 26. A special Super Plunge event takes place the weekend prior on January 18, when participants raise $10,000 each by jumping into the cold water, once an hour, for 24 hours! The main Polar Bear Plunge event is on Saturday, January 26.
Yes, it's very cold, and yes, it's very wet, but in speaking to those who have taken the plunge, we get the impression that those two adjectives take a back seat to a few others — namely, energizing, rewarding and unforgettable.
Adam Hays, a Special Olympics Maryland athlete from Frederick, described to us the excitement of being a super plunger. Hays has been plunging for 13 years and counting, and throughout that time he has seen support from both fellow plungers and the crowds who come out to cheer everyone on. Past attendees have included Governor Larry Hogan, Gino Gradkowski and Adam Terry of the Ravens, Baltimore Oriole B. J. Surhoff and DJ Pauly D.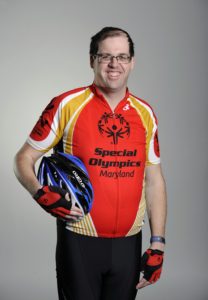 Hays explained that in addition to the plunge, the event has entertainment tents to keep participants warm. Jacqueline Bress, the senior director of special events at Special Olympics Maryland, noted that live music will be playing at the Rams Head Ice Lodge, where there will be hot chocolate, vendors, prizes and giveaways from the Maryland Lottery, and fun for kids including caricature artists and stilt walkers.
The MSP Polar Bear Plunge is "our biggest fundraising event of the year by far," Bress said, adding that what "is so impressive to me is just how many people are willing to not only come out there and get in the Chesapeake but also raise money to do it. It's an amazing thing. The day of the main plunge, we have about 10,000 people who come out, and across all the others, we have about another 5,000 … That's really a special kind of dedication and interest in our mission."
For those brave enough to take the plunge, Hays has some valuable advice: Don't wear much  — the less you wear, the faster you'll dry off — and bring a warm towel. You'll be glad you did.
For more information about this year's MSP Polar Bear Plunge, and to register, please visit http://somd.convio.net/site/PageNavigator/MSP_Polar_Bear_Plunge.html. To learn more about Special Olympics Maryland, visit https://www.somd.org.