"Shuck it! It's Oyster Season!"
If the world is your oyster, no event is a better reminder of the delectable things it has to offer than the Oyster, Wine & Beer Festival. The twelfth annual festival, being held Saturday, January 12, at the Assembly Room in downtown Baltimore, provides attendees with a cornucopia of foods, beverages, and fun. What better way to kick off the new year?
The 2019 Oyster, Wine & Beer Festival will be the biggest yet, having moved into the 24,000-square-foot Assembly Room space after over a decade at the Heavy Seas Beer Taproom. Fans of Heavy Seas will still have plenty to cheers, as the popular brewery will have various beer styles on offer. Other libations at the festival will include beverages from more than 30 breweries, wineries, and distilleries, along with a Bloody Mary bar where attendees are encouraged to build their own masterpieces.
The centerpiece of the festival, however, is the delicacy that has inspired poets and gourmands ever since someone was brave enough to try it for the first time. More than 20 different types of oysters will be available to taste, from all over the United States and Canada—everywhere from Nova Scotia to Texas, Maryland, Virginia, and the West Coast. Preparation methods will include grilled, steamed, roasted, and of course.. raw oysters; shuckers will prepare the oysters both in the Assembly Room kitchen and before attendees' eyes on the festival floor.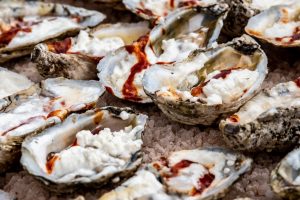 Besides its signature offerings, the Oyster, Wine & Beer Festival will also have different types of food from local restaurants, plus a clambake and pit beef sliced to order. After all, the festival "would not be a Baltimore event unless we had pit beef," joked Greg Nivens in a phone interview with "Maryland Monthly."
Nivens is the founder and president of Trigger Agency, the event services company that has organized the festival since its founding. The local Baltimore business has been responsible for providing plenty of joy to countless people and has become the largest producer of beer and wine events in North America, hosting events from New York to Florida. "We just go up and down the East Coast and do these different types of shows, and have fun with people," Nivens said. "People trust us with their weekends, so we want to make sure we give them a good time."
The Oyster, Wine & Beer Festival good times kick off at noon on January 12, through 4pm. Adult admission is $80 a ticket and includes a souvenir glass for all-you-care-to-taste drinks.